Golden Hands Bridge Tour In Sunrise or Sunset (1/2 Day)
The Golden Hands Bridge now is a must see place in Da Nang and Hoi An generally and Ba Na Hills in particular. It's one of the most famous bridges on our planet although it's only reconstructed in 2018. This wonder has two massive stone-like hands holding a curved bridge that becomes golden in the sun. While standing in it, visitors can see all the views below, until the horizon. The meaning of the building literally is the god of the mountain giving a gift to the new guests, representing hospitality. It's copied in many countries and still has inspired travel lovers worldwide. Sometimes in the day, the Golden hands bridge (and the hill station) is hidden in the clouds.
*If need a full-day itinerary with lunch, see details in Golden Bridge and Ba Na Hills day trip
Around 1/2 Day
Car, Minivan, Bus
English, Vietnamese
2 People Minimum
Reserve now & Pay later
Lunch on request
Visit the Golden Hands Bridge – a new world wonder in the sunrise (early morning) or sunset (late afternoon) when not too many people are there. That's a great chance to take good pictures and have a pleasant experience.
Long queues can be skipped anywhere, therefore this is a good option for families with kids or those who don't want to spend too much time in Ba Na Hills.
Have time enough for other things to do in Ba Na hills although don't stay in a full day, including seeing the 27-meters-tall Buddha, climbing to the top of Da Nang or entertainments in the Fantasy park.

Lunch is optional and our guide will recommend nice buffet restaurants or other venues to find your favourite foods to eat. 
Please contact us directly for the best price. We have a discount for families and group of 4 and above. If somebody travels on the same day, with a same itinerary, we will make a group to have a better price when agreed.  
*In Ba Na Hills company's price policy, visitors with a height of 1,4 meters (approx 4,59 ft) and above will pay the same to adults  
Inclusions
Private transport by modern, air-conditioned car
Licensed and experienced driver
Professional English-speaking guide
Hotel pick up and drop off in Da Nang city centre/Hoi An
Two-ways cable car, connecting cable cars
Entry to most sightseeing places (except Debay wine cellar, wax museum) and entertaining games at Fantasy park (except winning games)
Golden Bridge entrance fee
Bottled water
Exclusions
Our guide/driver will be in the hotel at 7 AM in Da Nang and 6:30 AM in Hoi An ("sunrise tour") or 1:30 PM in Da Nang or 1 PM in Hoi An ("sunset tour"). Then, go to Sunworld Ba Na Hills. It takes around 45 minutes from Da Nang center and nearly 1,5 hours from Hoi An to get there.
At 7 AM in Da Nang and 6:30 AM in Hoi An for the sunrise tour. To go for the sunset tour, 1 PM and 1:30 PM respectively.
To get to Ba Na Hills and Golden Bridge from the plain, the cable car is only transport. Now this amazing engineering work holds 4 world records, including the longest on the planet – 5 kilometers. Travellers have a nice experience while being conveyed up the mountain, thanks to picteresque natural beauty. There are magnificent hills to hills, well-protected forests with a rich wildlife, rivers with waterfalls, giant outcrops, and clouds.
See details in
Ba Na Hills Cable Car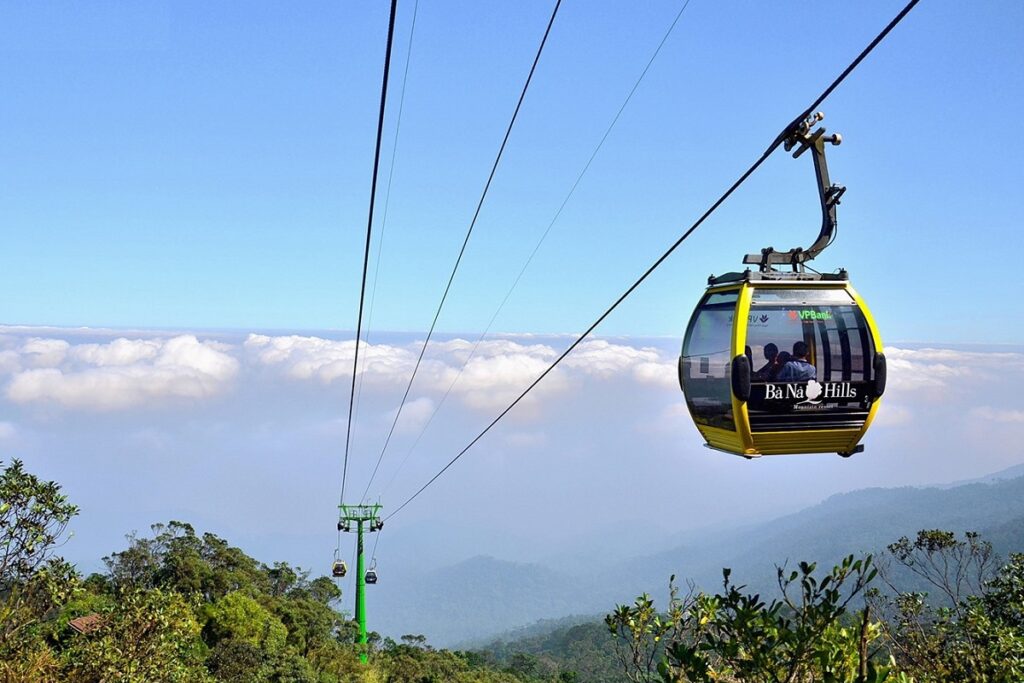 The Golden Hands Bridge is one of the most sought-after places to visit. It opens the doors in 2018 and soon is in the bucket list of lots of travellers. Spanning over 150 meters, its half-oval passage is paved by wood,and handrails are plated by gold. Two huge hands hold it gently, representing the hands of the God what pulls a strip of silk from the mountain. Recently, a Britishnewspaper named this building on top of new wonders in the world.
See details in
Golden Hands Bridge Travel Guide
Debay Wine Cellar & Flower Gardens
Debay Wine Cellar was built by a group of French rich men in 1923 in a low rock hill by flower gardens. Its role is for preservation of wines and the host of parties. This historic site is designed with a zigzag layout to keep cool temperature stay longer and a bar is placed above to view pretty sceneries.
Linh Ung Pagoda & Gautama Buddha
Linh Ung Pagoda Ba Na Hills is the second of three Buddhist temples of the same name in Da Nang. It's located at the end of a major walkway down from the Golden Bridge. The highlight here is the 27-meters-tall Gautama Buddha who faces the city to shelter its citizens. By the staircases to the worshipping hall, visitors can see the emblematic flower of the hill station every spring – the bell-shaped cherry blossom.
See details in
Linh Ung Pagoda Travel Guide
French Village & Fanstasy Park
French Village is located on a higher location than the Golden Bridge. It's really large, consisting of hundreds of medieval-style buildings lining stone-paved lanes. The church is the most sophisticated architecture, next to the square where festive outdoor celebrations occur. Travellers can sit in a coffee shop or tea house to feel the buzzing atmosphere and nice weather. Under the ground, there are many games to entertain and Vietnam's first wax museum. The Alpine coaster nearby is another visitor's favorite.
Nui Chua summit - Top of Da Nang & hoi an
Nui Chua is the summit of Da Nang and Hoi An, with the highest point at 1,487 meters above sea level. Here, people build Buddhist temples, stupas and a bell pavilion where the wholity of the French Village is visible. In the half way, travellers can relax in a quiet tea house with a zen style.
Our guide will recommend a good restaurant to have lunch (at your own expense) or take you to buffet lunch restaurant if you reserve in advance (the cost: 350,000 VND)
We will drop off in the hotel or another place inside Da Nang city centre or Hoi An
This day trip requires 2 travelers minimum. For solo travelers, we'll offer a reasonable price (no double charge)
Kids must go with parents or adults
A small extra fee will be surcharged to pick up in the Son Tra peninsula (Da Nang) and South Hoi An area (Hoi An)
Most travelers can participate, LGBT-friendly
This experience requires good weather. In case it's canceled, an announcement will be made in advance.
Please contact us:
+84968009827 (Hotline, WhatsApp, Line, Zalo)

centralvietnamguide@gmail.com
*A small deposit may be suggested for groups of 4 and above
We have two options:
Cash on tour (VND, USD, and other popular currencies)

Credit cards via Paypal (3% extra fee from the third party)
Visitors from 10 years old are charged same as adults  

30% to 50% discount for children from 5 to 9 years old

Free of charge for kids under 5 years old
No fee or a full refund if cancel before 24hrs and more

50% of tour price if cancel from 12 to 24hrs before departure

100% of tour price if cancel within 12hrs or no show
Frequently Asked Questions
Travellers should prepare sun cream, sun glasses, nice shoes and cash. A light jacket is also necessary to wear when the temperature downs after rains or disapperance of the sun. If would like to enter the worshipping halls, just need to ensure that the shirt covers the airmpits. Free sarongs are available to get on and hide the skin on the legs, to express a respect to the Gods and Buddhas. Rain poncho or umbrella is important in a rainy day or the wet season. See more information in travel guide to Ba Na Hills.
Other Tours and Experiences