Da Nang Day Trip from Hoi An with Local Food Lunch
Da Nang city is 30 kilometers north of Hoi An. It's one of the most famous tourist destinations in the region. This day trip allows travelers to explore its best sightseeing places, and try authentic local dishes. In the morning, there is the tallest hill of the Marble Mountains where ancient Buddhist and Hindu temples are built. Here, visitors are also amazed by giant caves and 360oC peaks. After going across the Han river by the Dragon Bridge, the Cham Museum is the next stop. It houses sophisticated artifacts made by Cham people in past centuries, and it's unique worldwide. In the afternoon, travelers will visit the Pink church, Han market and the Lady Buddha in a picturesque peninsula. Around this statue, there are bonsai gardens, naughty monkeys, and breath-taking views. On the way back to Hoi An, My Khe Beach in the sunset is just beautiful.
*This tour starts from Hoi An. If stay in Da Nang, please see full-day Da Nang city tour with local food lunch
Full day
Car, Minivan, Bus
English, Vietnamese
2 People Minimum
Reserve now & Pay later
Learn about local culture and belief at Buddhist temples and discover amazing caves in the top of the Marble mountains. Before that, see lots of handmade marble sculptures.
Marvel at the tallest Lady Buddha statue of Vietnam which rises up to 67 meters from the surroundings. She is the goddess of mercy, and the patron god for local fishermen.
Have a chance to see the world's largest stone sculpture collection carved by Cham people who ever owned a kingdom in the region.
Try Da Nang local dishes for lunch, such as banh xeo pancakes, grilled pork lemongrass skewers, and watch how people make it
Go pass by the most stunning bridges, quarters and beaches of Da Nang
Many photo opportunities
Please contact us directly for the best price. We have a discount for families and group of 4 and above.
Inclusions
Air-conditioned, comfortable vehicle
Licensed and experienced driver
Knowledgeable English-speaking guide
Lunch with local food / vegetarian lunch is available upon request in advance
Bottled water
Roundtrip transfer with hotel pick up and drop off in Hoi An (except South Hoi An area)
All entrance fees & tickets
One way (up) by elevator in the Marble Mountains
Exclusions
Tour guide will be in the hotel reception at 8 AM. Then, the driver takes traveler(s) to attractions in the itinerary and a good local restaurant to have lunch with delicious dishes. He drops off in the hotel around Da Nang centre and Hoi An. A small fee will be charged if visitors stay in the South Hoi An area.
At 8 AM in the hotel within Hoi An
The Marble Mountains & Sculpture Village
Around the top of the Marble Mountains, the visitors will see Da Nang's oldest Buddhist temples, grandest grottoes, holiest shrines to local people, pretty outlooks and heritage trees. A viewpoint where all mountains are in sight is included in the trekking. In the surrounding, 400-years-old Non Nuoc marble village is proud of its traditional sculpture carving. One of the largest statue galleries is recommended, providing many opportunities for photography. The Giant Lady Buddha was sculpted by artisans here.
See details in
Marble Mountains Travel Guide
As a part of the Gold Coast, My Khe beach is famous for its fine sands, unpolluted and rock-free waters, and coconut palms in the back. It's in the list of 6 world's sexiest beaches, and amongst the primest shorelines of Vietnam. From here, Son Tra peninsula with a huge Lady Buddha, the Marble Mountains and the Cham islands are visible.
See details in
My Khe Beach Travel Guide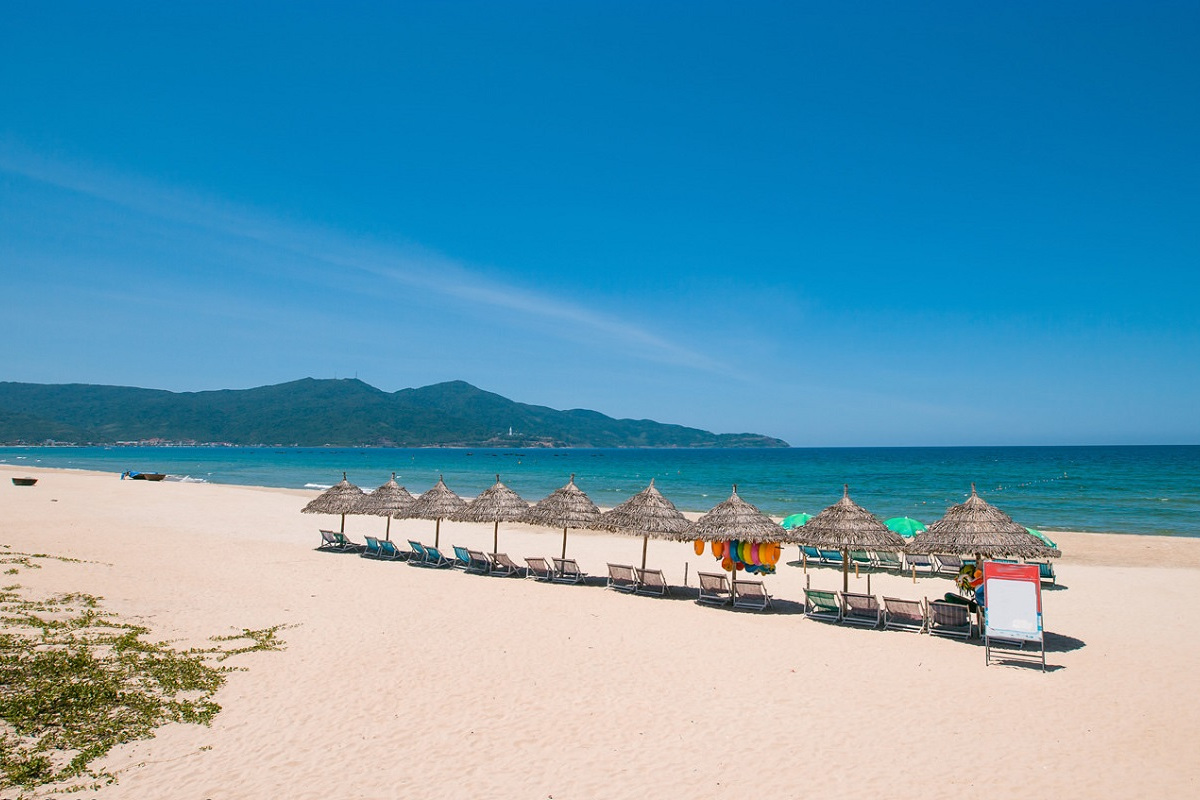 By the coast of Son Tra peninsula, this Linh Ung Pagoda is the youngest of three temples of the same name in Da Nang. Featuring grandeur shrines amid bonsai gardens and Bodhi trees, it's the largest Buddhist edifice. Here, there are many monkeys coming from behind the nature preserve for foods handed out from visitors.
See details in
Linh Ung Pagoda Travel Guide
Next to Linh Ung Pagoda, the Lady Buddha is the tallest of the kind in Vietnam, 67 meters from the surrounding area. She is known as the Goddess of Mercy and faces the city to shelter its citizens from natural disasters. Skilled artists from Non Nuoc stone carving village are in charge of this enormous sculpture. The view from here is mesmerizing.
See details in
Lady Buddha of Da Nang Travel Guide
Lunch with Da Nang Local Foods
Museum of Cham Sculpture & Dragon Bridge (pass by)
One-fifth of 2,000 sculptures found across former Champa Kingdom's lands are now preserved in this important museum. Many of which are brought from special places, such as My Son Sanctuary – the holy land, Tra Kieu – first capital or Dong Duong – South-east Asian largest Buddhist monastery at its time. While touring around, visitors will learn a lot about a new civilization and marvel at very precious artworks. Not far away, the Dragon Bridge is in top 30 of the most unique bridges of the world.
See details in
Museum of Cham Sculpture Travel Guide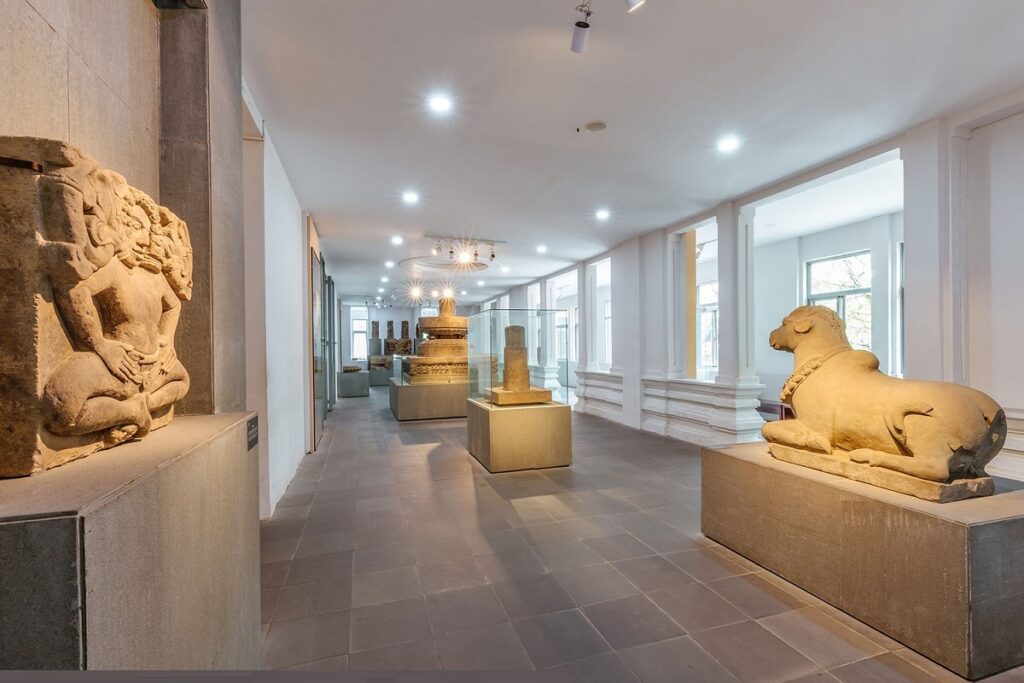 Bordered by four roads, Han Market is one of the earliest established markets in Da Nang center. It faces the Tran Phu St and has the back entrance opening to the Han riverfront where a ferry ever existed before nearby bridges were constructed. Visitors can buy lots of things here, from fresh to prepared foods (like dried fruits, nuts, candies, caramelized seafood, etc), souvenirs, postcards, readymade clothes, footwears, accessories, and more. Within a walking distance, it's not hard to seek local food eateries and beverages stalls to try.
See details in
Han Market Travel Guide
Da Nang Cathedral (The Pink Church)
Da Nang Cathedral is the only Christian church built in the French colonial time. Its façade features an eye-popping pink color, drawing lots of instagrammers coming to photograph. Besides "the Pink church", it's called by locals "the Rooster church".
See details in
Da Nang Pink Church Travel Guide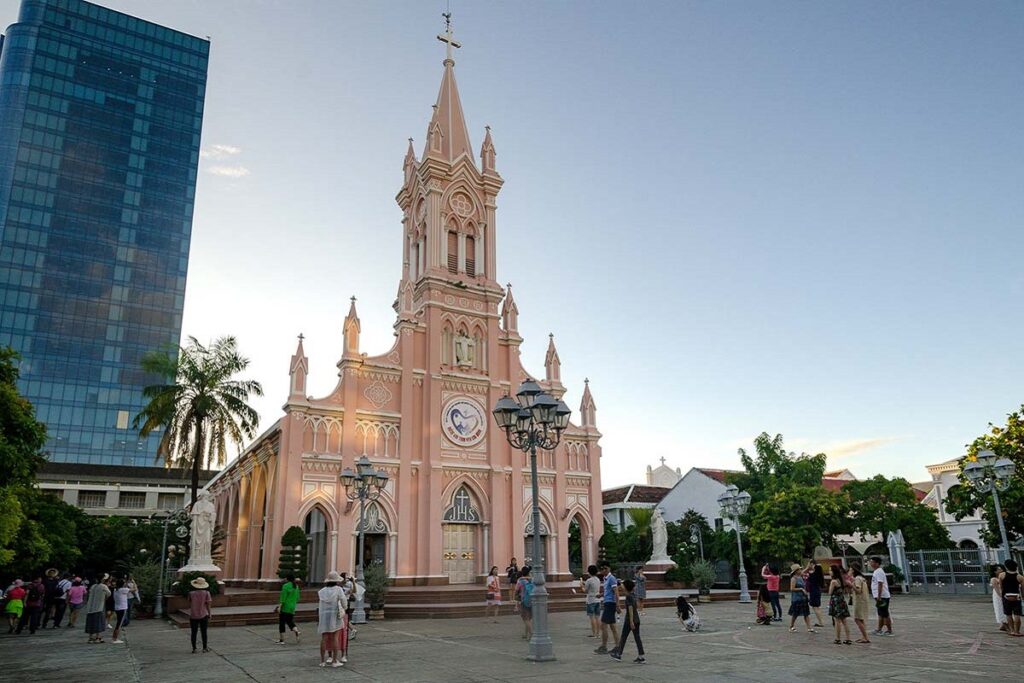 We will drop off in the hotel or another place inside Hoi An
This day trip requires 2 travelers minimum, and kids must go with parents/adults.
A small extra fee will be surcharged to pick up in the Son Tra peninsula (Da Nang) and South Hoi An area (Hoi An)
Most travelers can participate, LGBT-friendly
This experience requires good weather. In case it's canceled, an announcement will be made in advance.
Please contact us:
+84968009827 (Hotline, WhatsApp, Line, Zalo)

centralvietnamguide@gmail.com
*A small deposit may be suggested for groups of 4 and above
We have two options:
Cash on tour (VND, USD, and other popular currencies)

Credit cards via Paypal (3% extra fee from the third party)
Visitors from 10 years old are charged same as adults  

30% to 50% discount for children from 5 to 9 years old

Free of charge for kids under 5 years old
No fee or a full refund if cancel before 24hrs and more

50% of tour price if cancel from 12 to 24hrs before departure

100% of tour price if cancel within 12hrs or no show
Frequently Asked Questions
Dress code is regulated in temples inside the Marble Mountains, Linh Ung Pagoda and Lady Buddha but not strictly checked. Like any religious places across the country, travelers need to ensure that not too much skin are shown. Covering the airmpits, navel and knees is a must. Sarongs for free are available to use before walking in worshipping spaces. Don't need to buy!
In the dry season (from February to August), travelers should bring sun cream, sunglasses, lightweight and cool fabric clothings. In the rest of the year, known as the wet season, rain coats/umbrellas, waterproof shoes, and more layers are necessary to prepare once hitting the road. In addition, a nice pair of walking shoes is also important, because travelers will walk quite a long in the day.
All Tours and Experiences